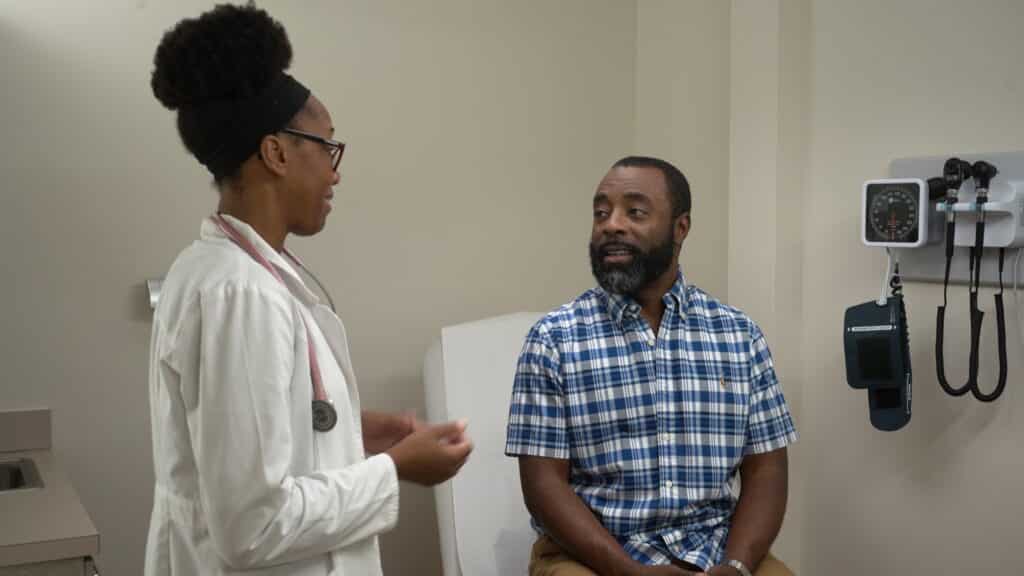 You keep having headaches, pains, and other symptoms that you know are abnormal. You are fearful due to your physical symptoms, but lack of health insurance or a deductible too high to pay is preventing you from seeking medical help. What are your options? Unfortunately, that scenario is all too common across the country.
In the state of Florida alone, 13.2% of people are uninsured and 16% avoided care due to cost.  Many of those patients have found the solution at community health centers (CHC).  CHCs are nonprofit, private-owned organizations that provide high-quality, comprehensive primary healthcare to patients regardless of income or insurance status, particularly in areas where doctors are in short supply.  According to the Florida Association of Community Health Centers, over 1.7 million patients utilized the services at community health centers here in the Sunshine State, with 28.9% of those patients being uninsured and 40% of those patients having Medicaid.  Over 53 health centers in Florida were on the front lines during the COVID-19 pandemic, expanding vaccine access to rural communities lacking resources and providing chronic care management to patients to improve outcomes.
At the heart of community health center operations is a little-known federal program called 340B.  First established in 1992, 340B allows certain non-profit organizations, such as community health centers, to buy medication at a discount.  This not only allows health centers to make high-cost medications affordable to patients, but it also generates savings that the health centers can use to provide more services to patients that really need them.  The 340B program has been critical to health centers, many of whom could not keep sites open without it.
Despite all the good that 340B accomplishes, nothing is liked by everyone, and in recent years, 340B has come under attack. Some members of the pharmaceutical industry as well as some in the pharmacy benefits management (PBM) space, have been vocal opponents of the program.  There is a lot of misinformation about 340B, including that it is a drain on drug companies, that too many providers qualify for it, that it is just a way for eligible organizations to get rich, and that it exploits communities of color. By visiting a community health center, you can dispel any of these myths. Nobody works at a community health center with the intention of becoming wealthy, because it is impossible. Many of the patients at community health centers are people of color, and vital statistics on health disparities show that myth to be false. Is it really a drain on drug companies to participate in the 340B program? Drug companies voluntarily choose to take part in the 340B program, as opting out would mean being excluded from Medicaid. In addition, many drug companies spend more money on advertising and marketing than it would cost them to participate in the 340B drug program.
The consequences would be dire if the program were to go away.  Florida Community Health Centers, Inc. (FCHC) is a federally qualified health center located in the six counties surrounding Lake Okeechobee in South Florida.  It serves over 50,000 patients a year, providing services such as adult and pediatric primary care, behavioral health, dental, infectious disease, OB/GYN services, pharmacy, and lab.  FCHC also offers services that are not paid for by insurance such as clinical pharmacy, pharmacy delivery services, health benefits coordination, and care management.  Without FCHC, many patients would go without crucial lifesaving medications and medical services.  Without 340B, some of the service sites in our most rural areas would have to close, leaving hundreds, and in some cases, thousands of patients without access to health care.
As someone who has experienced firsthand the effects of not having access to healthcare for oneself or a loved one, I can attest to its devastating consequences.  A family member of mine was unemployed and uninsured due to an on-the-job injury, so they were hesitant to seek medical help due to the fear of a large bill. However, when they discovered the local community health center, they felt encouraged to focus on their health for the first time in a long time. Thanks to the 340B program, she was able to access prescriptions that she had previously denied herself. Soon after, she began to have headaches and when she visited the community health center, it was discovered that she had cancer. The care she received at the community health center was invaluable and gave her the opportunity to connect with a clinician who provided her with great care, encouraged her to invest in her health, and then provided her with the means to do so. Despite only having disability and insurance a year and a half before her passing, it is likely that without the care at the community health center, she would not have had the appointment that gave her the diagnosis.
There are many people like my family member.  Many of them fall through the cracks.  Let's protect 340B so that many people can avoid the nightmare scenario described above.
About Florida Community Health Centers, Inc.
Since 1976, Florida Community Health Centers Inc. (FCHC) has been considered a leader in Florida's health care services. Pediatric, Adult, Dental, OBGYN, Behavioral Health, Care Management, and Benefit Enrollment services are provided through a network of health centers surrounding Lake Okeechobee in South-Central Florida. FCHC is Joint Commission Accredited and recognized by NCQA as a Patient-Centered Medical Home. FCHC has service delivery sites in Clewiston, Indiantown, Okeechobee, Fort Pierce, Port St. Lucie, Pahokee, Moore Haven, Stuart, with FCHC's Corporate Office centrally located in West Palm Beach, Florida. Visit www.fchcinc.org for additional information or LIKE us on Facebook.