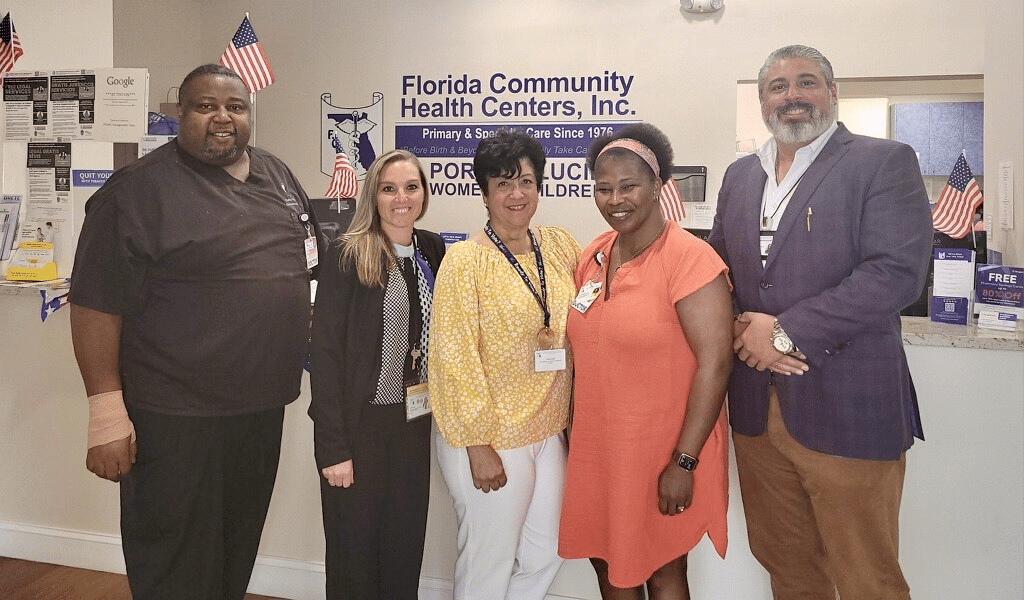 Florida Community Health Centers Inc. (FCHC) is thrilled to announce its ongoing collaboration with Ms. Wanda Montalvo, PhD, RN, FAAN, in her capacity as the Director of Evidence-Based and Integration Strategy for NACHC (National Association of Community Health Centers) within the Division of Clinical Affairs.
FCHC initially joined forces with Ms. Wanda Montalvo during her involvement with the "We Can Do This" campaign, a vital initiative aimed at promoting and administering COVID-19 vaccines within our local communities. In the months of March and April 2023, FCHC actively participated in four significant events, including Palm Beach Pride, Sunfest, Delray Affair, and the Black Gold Jubilee, demonstrating its commitment to community well-being.
More recently, Ms. Wanda Montalvo has initiated an essential program addressing Severe Maternal Morbidity and Pregnancy-Based Deaths. FCHC is proud to be selected as one of the participating FQHCs (Federally Qualified Health Centers) in Florida for this groundbreaking effort. In furtherance of this initiative, Ms. Montalvo visited our OB-specific centers, Port St. Lucie Women and Children and Grace Women and Children's Health Centers for an in-depth exploration of our facilities and a comprehensive discussion with OB and our Leadership team.
Ms. Montalvo's primary objective during her visit was to gain insights into promising practices in OB services and to understand the unique challenges faced within a Health Center environment. This initiative is a collaborative endeavor with the Centers for Disease Control (CDC) and aims to develop a comprehensive two-year work plan focused on addressing Maternal Morbidity and Mortality.
This partnership underscores FCHC's unwavering dedication to providing high-quality healthcare services and contributing to the betterment of community health outcomes.
National Association of Community Health Centers). She is dedicated to advancing healthcare equity and improving health outcomes for vulnerable populations.
About Florida Community Health Centers, Inc.
Since 1976, Florida Community Health Centers Inc. (FCHC) has been considered a leader in Florida's health care services. Pediatric, Adult, Dental, OBGYN, Behavioral Health, Care Management, and Benefit Enrollment services are provided through a network of health centers surrounding Lake Okeechobee in South-Central Florida. FCHC is Joint Commission Accredited and recognized by NCQA as a Patient-Centered Medical Home. FCHC has service delivery sites in Clewiston, Indiantown, Okeechobee, Fort Pierce, Port St. Lucie, Pahokee, Moore Haven, Stuart, with FCHC's Corporate Office centrally located in West Palm Beach, Florida. Visit www.fchcinc.org for additional information or LIKE us on Facebook