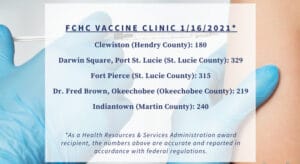 WEST PALM BEACH, FL– In an effort to provide increased support to our patients and community, Florida Community Health Centers, Inc. (FCHC) held a free COVID-19 Vaccination Clinic on Saturday, January 16, 2021.
The vaccination clinic was held at five of the organization's center locations in Clewiston, Fort Pierce, Indiantown, Okeechobee and Port St. Lucie. More than 1,200 people received the COVID-19 vaccine, some standing in line for hours.
Criteria to receive the vaccine followed the direction of the Florida Department of Health and Division of Emergency Management, that recipients must be 65 and older or a health care worker involved in direct patient care.
COVID-19 Vaccination Numbers by Location*:
Clewiston (Hendry County): 180
Darwin Square, Port St. Lucie (St. Lucie County): 329
Fort Pierce (St. Lucie County): 315
Dr. Fred Brown, Okeechobee (Okeechobee County): 219
Indiantown (Martin County): 240
Recipients have been scheduled to receive the second dose 28 days following the initial vaccine.
COVID-19 testing is still available at multiple locations, with Saturday testing available at some sites. Please visit our website: www.fchcinc.org for a list of specific locations and hours.
*As a Health Resources & Services Administration award recipient, the numbers above are accurate and reported in accordance with federal regulations.
###
About Florida Community Health Centers, Inc.
Since 1976, Florida Community Health Centers Inc. (FCHC) has been considered a leader in Florida's health care services. Pediatric, Adult, Dental, OBGYN, Behavioral Health, Care Management, and Benefit Enrollment services are provided through a network of health centers surrounding Lake Okeechobee in South-Central Florida. FCHC is Joint Commission Accredited and recognized by NCQA as a Patient Centered Medical Home. FCHC has service delivery sites in Clewiston, Indiantown, Okeechobee, Fort Pierce, Port St. Lucie, Pahokee, Moore Haven and Stuart, with FCHC's Corporate Office centrally located in West Palm Beach, Florida. Visit www.fchcinc.org for additional information or LIKE us on Facebook.