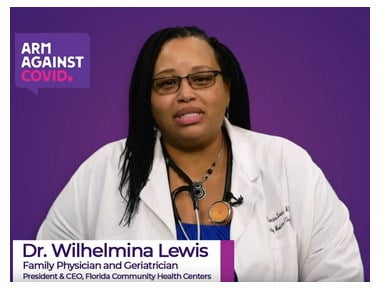 As we enter 2022, Florida Community Health Centers, Inc. (FCHC) continues to celebrate serving our patients and communities for 45 years. We are grateful to be entrusted with the health care needs of almost 60,000 patients. 2022 will continue to present challenges as we remain in the midst of the COVID-19 pandemic. Nevertheless, we remain committed to providing access to high-quality, affordable health care to everyone in our communities. A large part of our work these days involves COVID related services. FCHC provides COVID testing and vaccination in our Centers and throughout our communities at no out of pocket cost. FCHC is honored to have been chosen as 1 of the first 200 Health Centers in the nation to provide oral COVID-19 medication for our patients and communities! We will also be distributing free at home COVID-19 testing kits. Both of these services will begin in early 2022. All of this is in addition to our usual adult and pediatric primary care, health screenings, OBGYN, dental, pharmacy, infectious disease, behavioral health, telehealth, Medicaid and marketplace insurance enrollment assistance, and health care coordination services!
As we seek to serve even more of our community, be on the look-out for a new FCHC satellite service site near you! If you are connected to a community organization with a location that you believe could benefit from on-site health care services, please reach out to our corporate office via the contact us section of our website or call us at (561) 844-9443 . We are also looking for new team members to join us in living out the mission and bringing to life the vision of this incredible organization. You will join a dedicated group of individuals who have enjoyed the FCHC journey for up to thirty-five years of service so far!
Our motto is our invitation: "Before Birth and Beyond, Let Our Family Take Care of Yours". We welcome the opportunity to partner with you and your family in making 2022 a healthy year. Please check our list of locations and contact us for an appointment.

Have a Happy and Healthy Year,
Wilhelmina Lewis, MD
President and CEO